Proprio come anticipato da TechRadar durante la giornata di ieri, la catena di distribuzione nordamericana nota come Best Buy renderà disponibili all'acquisto oggi e anche direttamente in negozio le console di nuova generazione PS5 e Xbox Series X|S.
Proprio nel corso di queste ore, e andando avanti nel corso del pomeriggio, negli USA la catena in questione distribuirà ai clienti le unità di un nuovo restock di PS5 e Xbox Series, per la prima volta da novembre 2020, ossia dal loro primo lancio sul mercato internazionale.
Per tutto il 2021, infatti, quelli di Best Buy non sono più riusciti a ottenere alcun rifornimento di scorte per le console next-gen di Sony e Microsoft, ma ora la situazione sembra essere destinata a cambiare, anche se non troppo nettamente.
Secondo le prime indiscrezioni condivise in rete dal portale TechRadar, le unità di Best Buy saranno circa tra le 50 e le 100 e verranno vendute soltanto in alcuni punti di vendita selezionati della catena operativa nel Nord America.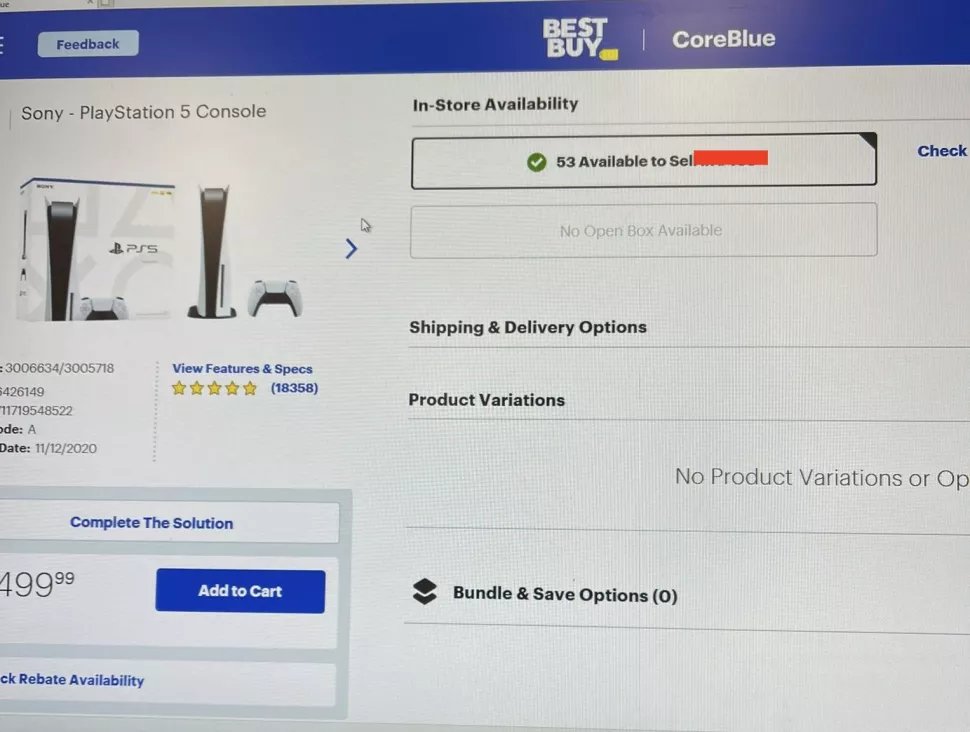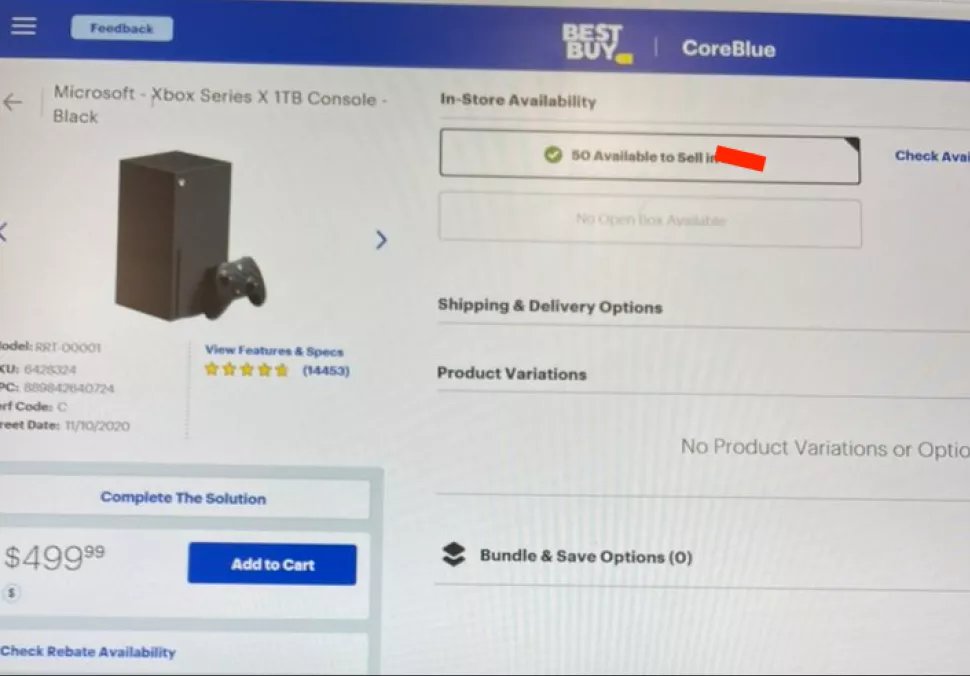 Potete constatare voi stessi la reperibilità in negozio dalle foto riportate esattamente qui sopra.
Come potete vedere, si tratta di un quantitativo di piattaforme di gioco molto basso, soprattutto considerando che i punti vendite di Best Buy negli Stati Uniti sono praticamente centinaia. Comunque sia, stiamo probabilmente parlando di un primissimo risultato positivo dopo un periodo di assenza totale di scorte.
Matt Swider di TechRadar sta inoltre monitorando la situazione con aggiornamento costanti su Twitter in merito ai restock in questione di PS5 e Xbox Series X.
Lista dei negozi di Best Buy con rifornimenti di PS5 e Xbox Series X
Alaska
No Best Buy stores will have it
Alabama
Birmingham
Huntsville
Mobile
Tuscaloosa
Arkansas
Fort Smith
Rogers
West Little Rock
Arizona
Avondale
Camelback
East Tucson
Flagstaff
Thunderbird Rd.
Tucson
California
Arden Fair
Atwater Village
Bakersfield
Burbank
Chula Vista
Costa Masa
Downey
El Centro
Emeryville
Fresno
Mission Valley
Modesto
Montebello
Moreno Valley
Oceanside
Pacoima
Rancho Cucamonga
Roseville
San Bernardino
San Francisco (13th & Harrison St.)
Santa Rosa
Slatten Ranch
Stockton
The Plant
Torrance
Union City
Visalia
West Covina
West Hollywood
West LA
Colorado
Academy Blvd
Aurora
Belmar
Colorado Blvd
Denver West
First & Main
Fort Collins
Grand Junction
Northglenn
Westminster
Connecticut
Manchester
Meriden
Norwalk
Waterford
West Harvard
Washington, D.C.
Delaware
Florida
Aventura
Boca Raton
Brandon
Clearwater
Daytona Beach
Doral
Florida Mall
Fort Lauderdale
Fort Myers
Gainesville
Hialeah
Kissimmee
Millenia Mall
North Palm Beach
Pensacola
Saint Johns
South Tampa
South Petersburg
Tallahassee
Georgia
Athens
Augusta
Columbus
Edgewood
Gwinnett
Kennesaw
Mall of Georgia
McDonough
Savannah
Warner Robins
Hawaii
Iowa
Cedar Rapids
Davenport
Sioux City
University Ave West Des Moines
Idaho
Illinois
Bucktown
Burbank
Butterfield Road
Champaign
Fairview Heights
Gurnee
Joliet
North Riverside
Peoria
Rockford
Schaumburg
Springfield
Indiana
Clarksville
Evansville
Fort Wayne
Greenwood
Lafayette
Merrillville
South Bend
Kansas
East Wichita
Oak Park
Topeka
Kentucky
Florence
Hamburg Pavilion
St. Matthews
Louisiana
Baton Rouge
Lafayette
Shreveport
Massachusetts
Attleboro
Cape Cod
Danvers
Dedham
Holyoke Mall
Millbury
Plymouth
Maryland
Annapolis
Columbia
Frederick
Glen Burnie
Hagerstown
Waldorf
Maine
Michigan
Ann Arbor
Flint
Grand Rapids
Kalamazoo
Lansing
Madison Heights/Troy
Novi
Rivertown Crossing
Southland Center
Utica
Minnesota
Duluth
Mankato
Maple Grove
Minnetonka
Oakdale
Richfield
Roseville
Missouri
Battlefield
Brentwood
Independence
Mid Rivers Mall
Mississippi
Montana
North Carolina
Asheville
Blankeney
Carny
Concord Mills
Fayetteville
Hickory
Willmington
Winston-Salem
North Dakota
Nebraska
New Hampshire
New Jersey
Depthford
Jersey City
Mays Landing
Mount Laurel
Princeton
West Paterson
Woodbridge
New Mexico
Nevada
Centennial
Henderson
Reno
SW Las Vegas
New York
86th & Lexington
Albany
Amherst
Bay Parkway Brooklyn
Bay Shore
Bronx Terminal Market
Chelsea (23rd & 6th)
Dewitt
Henrietta
Long Island City
Midtown Manhattan (44th & 5th)
Poughkeepsie
South Setauket
Staten Island
Union Square
Westbury
Ohio
Beavercreek
Eastgate
Morse Rd
North Canton
Parma
Toledo
Tuttle Crossing
Youngstown
Oklahoma
Oklahoma City West
Quail Springs
Tulsa
Oregon
Cascade Station
Clackamas
Gresham
Salem
Springfield
Pennsylvania
Erie
Harrisburg East
North Fayette
Oxford Valley
Reading
South Philadelphia
Springfield
Whitehall
Wilkes Barre
Puerto Rico
Rhode Island
South Carolina
Columbiana Mall
Greenville
Myrtle Beach
North Charleston
South Dakota
Tennessee
Brentwood
Chattanooga
Knoxville
Murfreesboro
Popular Ave
Texas
Alamo Ranch
Arlington
Bunker Hill Road
Cedar Hill
Cedar Park
College Station
Corpus Christi
East El Paso
El Paso
Frisco
Fry Road
Galleria
Heritage Trace Parkway
Humble
Irving
La Cantera
Laredo
Lubbock
Mcallen
Mesquite
Midland
North Austin
Park Lane
South Austin
The Woodlands
Utah
Jordan Landing
Murray
Riverdale
South Salt Lake City
Virgina
Baileys Crossroads
Charlottesville
Chesapeake
Fairlakes
Fredericksburg
Newport News
Roanoke
Virginia Beach
West Broad
Vermont
Washington
Bellevue
Kennewick
Lynnwood
Northgate
Silverdale
Spokane East
Tacoma
Wisconsin
Appleton
Eau Claire
Green Bay
Racine
Southridge
West Madison
West Virginia
Wyoming
Che ne pensate di questa situazione? Ora si parla di un ritorno alla normalità nel 2023 per quanto riguarda la produzione e offerta di PS5 e Xbox Series!